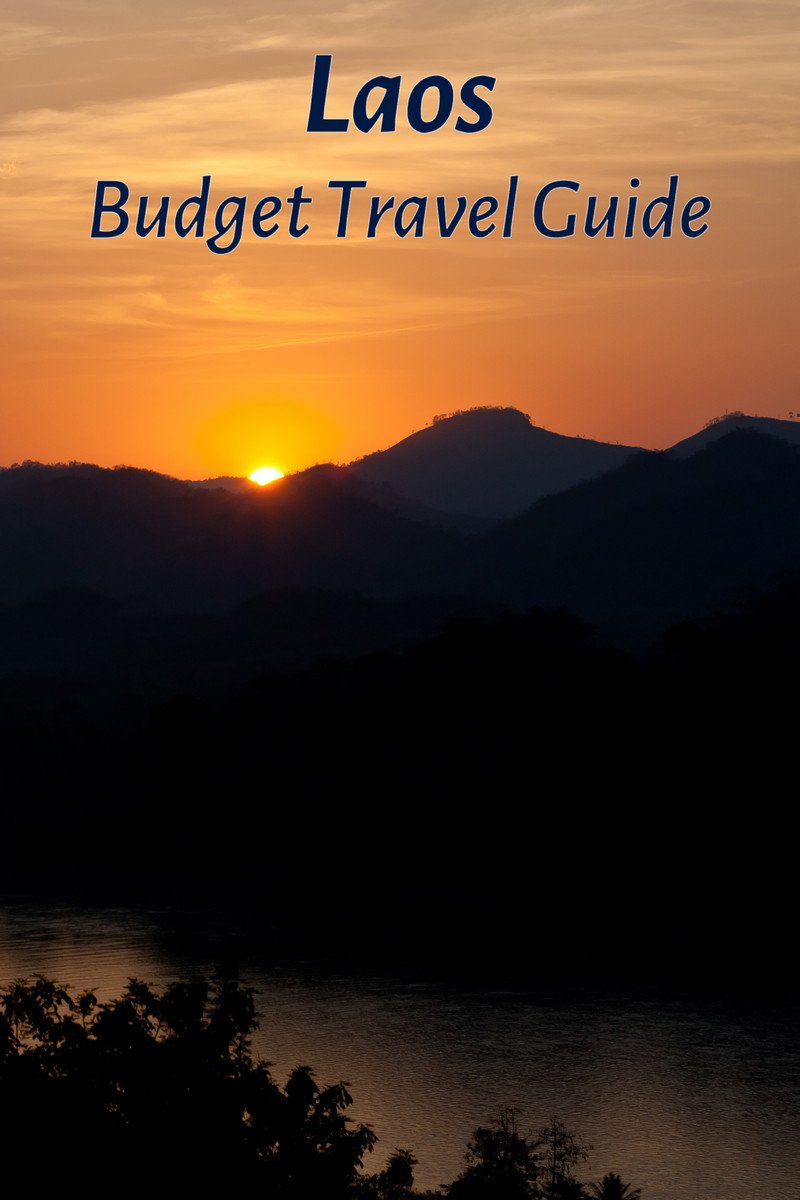 As the only landlocked country in Southeast Asia, Laos is often overlooked by travelers to the region. If they visit at all, most just make the standard loop through. It doesn't have a single beach after all and the beaches are a big reason many people flock to this part of the world. On the other hand, it also doesn't have a single McDonald's (fake McDonald's aside) or any other fast food franchises and is overall much less touristy and thus much more laid-back than the surrounding countries.
Visiting rural Laos, I felt I was getting a glimpse of what it must have been like to visit Thailand a few decades ago (read about my motorbike trip through central Laos). The roads are rough, the transport is all local, the smiles are genuine with no dollar signs flashing in the eyes, and the annoyances and hassles are kept to a minimum. That said, things are changing rapidly and in places along the tourist loop, Laos already feels a lot like Khao San Road in Thailand.
Major Cities
Top Attractions
Best Time to Go
The best time to visit Laos is during the dry season from November to March, when temperatures are much cooler (they can even reach freezing at night in the mountains). Toward the end of the dry season, farmers in the north begin burning their fields and the air gets very hazy. March to May is the hot season and the temperatures can reach 40ºC or higher. The wet season runs from May to October, when frequent rains wreak havoc on the roads.
Visa
Most nationalities need a visa to enter Laos. Visas can be obtained in advance at any Lao embassy or consulate or on arrival at the airports in Vientiane, Luang Prabang, or Pakse, as well as all major land border crossings. Getting a visa on arrival is generally cheaper, at least when paying in US dollars.
The visa fees range from $20 to over $60, depending on your nationality and the embassy or consulate where you are applying. Processing takes 2-3 days at a consulate or embassy, but that time can be reduced to an hour for a $5 fee. You will need one or two passport photos, depending on where you are applying, so bring two to be on the safe side.
Visa extensions are available in Vientiane, Luang Prabang and Pakse at a cost of $2 per day plus a small fee. For extensions over two weeks, it is generally more cost effective to make a quick visa run to Thailand.
Money and Costs
The Lao currency is called the Kip and US $1 buys about 8000 of them. €1 gets you 10,000.  ATMs can be found in all major cities, but plan ahead if going to rural areas, as you will have no way of getting money once there.
Costs
You will hear many people claim that Laos is more expensive than neighboring countries. While this is certainly true in the touristy areas (Vientiane and Luang Prabang), the rest of the country is slightly less expensive than Thailand. Many products, however, are imported from neighboring countries and thus cost a little more. Others, like beer, are much cheaper (and MUCH better tasting).
In most of Laos, it is pretty easy to find a room for under $5 and to spend less than $10 per day, excluding travel costs, but I'd figure on $20 to $25 if you plan on eating some non-Laotian food and having some beers. In Vientiane or Luang Prabang, you can find rooms under $10, but will have to look pretty hard (and bargain hard).
Getting to Laos
The only budget flight into Laos is an Air Asia flight into Vientiane from Kuala Lumpur. Alternatively, you could fly into Udon Thani in Thailand and cross the border overland to Vientiane. If arriving at the Vientiane airport, taxis charge an incredible $7 for the short ride to the city center. Save a few dollars by walking outside the gate and catching a tuk tuk or taxi for $2 – $3. Save even more by taking public transport across the road for 30 cents or so.
Since 2009, a train across the Mekong is available connecting to the night train from Bangkok, but the station is far from the city—I recommend taking a bus to the border from the train station in Udon Thani instead.
At the border crossing with Cambodia you will most likely be forced to pay a bribe of $1 or $2. I don't think you can avoid this. More importantly, pay attention to your bags during the many bus changes at the border. Don't let yourself be separated from your bags; they have been known to sometimes disappear (especially with the 'King of Bus' company).
Transportation
Planes
Flying is the easiest option and can save you a lot of time, but it will cost you.
Buses
On popular routes in Laos, you basically have a choice between public buses and tourist minibuses. Generally, the minibuses are probably preferable, but it really comes down to personal choice. Neither will be comfortable for a long period of time.
Outside of the popular routes, you will usually only have public buses. They are old, small, cramped, noisy and on the windy, mountainous roads in the north, they will be filled with locals (and often a few tourists as well) throwing up into little plastic baggies. They will also generally try to overcharge foreigners by a few dollars, so find out what your ticket should cost before going to buy it.
Boats
Once a good alternative to the horrific roads in Laos, these days few boat routes remain in steady use and the ones frequented by tourists are incredibly overpriced. Personally, I only took one boat in Laos (as a form of public transport, anyway)—the hour-long trip from Nong Khiaw to Muang Ngoi—and while the scenery was nice, I prefer buses.
The boat from Huay Xai on the border with Thailand to Luang Prabang has become part of the standard Southeast Asian backpacker loop and most people I met in Laos had entered the country this way. Most loved the scenery, but none enjoyed spending two days on a little boat (or 6 hours on a much less comfortable and much more dangerous speed boat).
Other Forms of Transport
Shorter distances (up to a few hours and sometimes more) will usually be covered by songthaew, which is basically pick-up with a roof and open sides. Uncomfortable, usually crowded and cheap, songthaew are a great way to travel short distances, but you don't want to get stuck on one for more than an hour or two.
Tuk Tuks will take you around most towns, but will almost always try to overcharge. Bargain hard if you have to take one, but I suggest avoiding them when possible. Often a songthaew will be available for the route you need and will take you for a fraction of the price.
Accommodation
In Vientiane and Luang Prabang, you will find accommodation under $10 per night only with difficulty. Everywhere else you can usually get a room for $5 or even less. In rural areas, options will be limited to very basic guest houses and sometimes nothing at all. If you prefer to book ahead, Agoda has been steadily adding properties in Laos and now has listings in almost every destination.
Eating & Drinking
Drinking
If you've been in Southeast Asia for a while and have been drinking tap water, you can continue to do so in more rural areas of Laos. Otherwise, you might want to stick to bottled water which is quite cheap. No one should drink the water in Vientiane.
Beer Lao is far and away the best beer in Southeast Asia and at 10,000 Kip per large bottle, probably the cheapest as well. The cheapest way to get drunk is Lao Lao, a rice spirit that is available everywhere. Most try it once then go back to Beer Lao.
Vang Vieng is a party town; the rest of Laos has virtually no nightlife whatsoever.
Eating
Street food in Laos is generally quite cheap, with a large bowl of noodle soup going for about $1. Thanks to French colonization, baguettes are available in many areas and street food stalls will sell pre-made sandwiches.
Laap is the national dish of Laos. Laap is a type of salad made with minced meat (can be beef, buffalo, pork, chicken or fish and is often raw) with lime juice, mint and chilies. It is served with sticky rice, which is ubiquitous in Laos.
Western food is available in all touristy areas. It is generally not very good (there are some exceptions, though) and overpriced. For some reason, Laos does have a number of pretty good Indian restaurants with vegetarian dishes often going for $1 each.
Safety
The crime rates are very low in Laos, but bag snatchings and similar crimes are on the rise.
The biggest danger to tourists are generally the microbes. Food borne illness is not uncommon and malaria and dengue fever are endemic in many parts of the country. You will definitely want the standard vaccinations for travel around SE Asia (Hepatitis, Typhoid, etc.). The CDC website will have up to date health information for travelers to Laos.
Apparently, you are required by law to carry either your passport or a copy of your passport at all times (a copy is preferable) and a fine of 100,000 Kip will be handed out to those found without the proper documentation. In two months in Laos, I was never once asked to show ID.
Landmines and unexploded ordinance blanket most of Eastern and parts of Northern Laos. These should not be a problem as long as you stay on roads or trails that have been cleared. If you plan on heading into the countryside, make sure you find out which areas are safe and which are not.
Tips for Saving Money
if arriving at the Vientiane airport, head out to the street and cross to the other side to take public transport into the city
travel by bus, not boat or plane
find out the cost of bus tickets before going to buy them, as you will often be quoted higher prices
take a songthaew instead of taxis or tuk tuks in the cities
eat local food at street stalls or small restaurants; avoid western food if possible
never accept the first price on anything in tourist areas—bargaining is expected
if extending your visa for more than two weeks, just cross into Thailand and get a new visa instead (if you find yourself near a border crossing, naturally)
learn to sleep in a hot room (the fans help a little); air conditioning will drive up your costs
Additional information on Laos can be found at the US Department of State website as well as the CIA World Factbook.