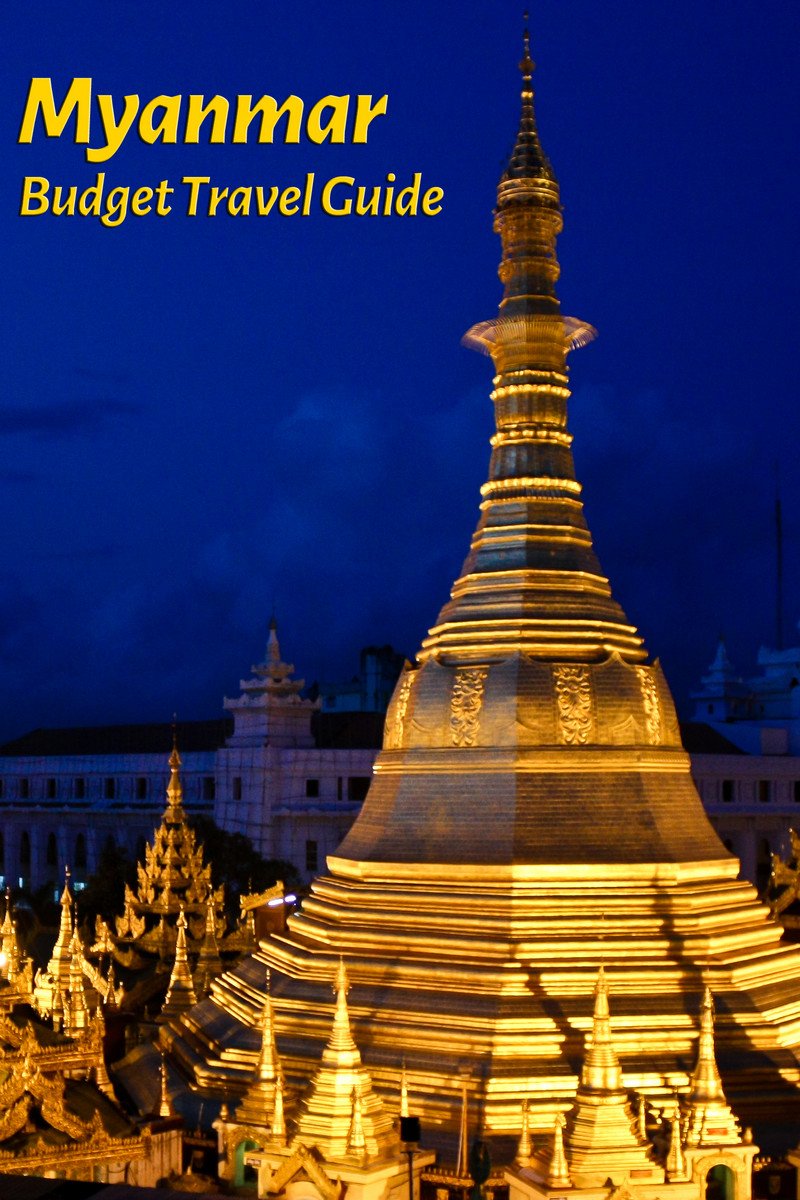 Often seen as a glimpse into Southeast Asia before it became touristy, Myanmar (Burma) hasn't quite made it into the standard backpacker loop yet. That is rapidly changing, however, with loosening visa regulations and a government slowly becoming more open and tolerant.
For now, travel in Myanmar is still decidedly less touristy than the rest of Southeast Asia, but that doesn't mean that it lacks tourist facilities and some of the annoyances that go along with them. Once you get off the tourist trail, things become much rougher and, many will say, much more 'real'. Read about my trip to Indawgyi Lake for an example.
Note: Due to a huge increase in visitors to Myanmar, prices have been skyrocketing. Locations and modes of transport I've listed as offering the lowest prices will still offer the lowest prices, but those prices will likely be considerably higher than they were when I visited in 2011 (last edited on Apr 5, 2013).
Major Cities
Yangon (formerly Rangoon): largest city in Myanmar
Mandalay: second largest city and the hub of upper Myanmar
Hsipaw: lovely little village in the hills with fresh, cooler air and great trekking opportunities
Naypyidaw: new capital of the country
Mawlamyine: the third largest city
Bago: historic city near Yangon with many Buddhist sights
Taunggyi: capital of the Shan State
Kawthaung: beach town in the far south
Pyin U Lwin: former British colonial hill station
Twante: a town in the delta famous for its pottery
Top Attractions
Shwedagon Pagoda in Yangon
Bagan: a large archaeological zone with thousands of pagodas near the Irrawaddy River; often compared to Angkor Wat
Inle Lake: large, beautiful lake surrounded by hills; boat trips, floating villages, floating gardens, unique rowing and fishing style, wineries, local crafts
Indawgyi Lake: large lake and wildlife sanctuary in northern Myanmar; very few tourists go here, as it's difficult to get to and there's not much to do once there
Best Time to Go
The best time to visit Myanmar is from November to February, when the temperatures are more bearable and it rains the least. March to May is the hot season. During this time temperatures in most of the country can reach 40ºC or higher. The southwest monsoon usually begins around the end of May or the beginning of June and lasts until October. Frequent rains soak the country throughout this season.
Visa
Bangkok is probably the most convenient place to get a Burmese visa, but you can easily apply for one in your home country as well. The embassy in Bangkok can be found here: Myanmar Embassy in Bangkok
Visa Requirements (in Bangkok)
860 Baht (just under US $30) will get you a visa in two days; 1260 Baht (just over US $40) for same-day service
two passport-sized photos with a white background
an application form (available at the embassy)
Tips
the embassy is open from 9am to noon and 1pm to 3pm—get there early as the lines can get long!
if you need passport photos or you want to get a form in advance, a copy shop around the corner can help you.
the embassy is closed on both Thai and Burmese holidays, so make sure it will be open before you go
many people advise not to write anything controversial under "occupation" (i.e. journalist, photographer, etc.)
if you are applying for a same day visa, you will need a good reason and you may need a flight ticket
you may be required to have evidence of a return ticket out of Myanmar, although no one I know was asked for this
The tourist visa is valid for three months from the date of issue. It allows you to be in Myanmar for 28 days. It can not be extended.
Money and Costs
The money situation in Myanmar can be a little problematic. There are no ATMs in the country and the only way to get money is with a credit card at a select few places (at a very high rate). Therefore, you basically have to bring in enough money to last your whole trip (Note: this appears to no longer be true, as Myanmar now has several ATMs and is constantly installing more; I am not sure how reliable the ATMs actually are though).
Furthermore, that money needs to be in US dollars and those dollars need to be in perfect condition. Supposedly they must also be newer than 2006, but I had no problem using bills from after 2000 as long as they were in mint condition (Note: the requirement for perfect bills seems to have been relaxed somewhat, but I would play it safe and bring brand new ones anyway).
Bring $100 dollar bills to change into the Burmese currency called Kyat. You will also need a lot of smaller bills to pay for entrance fees, taxis and cheaper hotels.
In the past, the official rate was much lower than the black market rate, meaning the black market money changers were your best bet. Currently, banks offer similar rates to the black market, making them the preferred place to change money.
This could change, so make sure to research the exchange rate before you go, so that you know what you should be getting for your dollars (currently it's 855 Kyat to $1, but this fluctuates and you should check before you go)
You'll want to change most of what you'll need during your trip upon arriving in Yangon, as the rates are worse elsewhere in the country. At the same time, changing money back can be quite difficult, so you want to make sure not to exchange too much.
When changing money, count carefully. You will have a lot of bills, so this could take a while. Don't let them hurry you—take your time. After you have counted, don't let anyone else touch the money. Some of the money changers have very quick hands and will lighten your pile of money if given the opportunity. If you like, you can read about my experience changing money on the black market in Yangon.
Costs
Even with the government imposing relatively hefty surcharges on foreign tourists for accommodation, transportation and major attractions, Myanmar is quite cheap.
If you stay in the cheapest accommodation, use the cheapest forms of transport, eat local food and don't drink too much alcohol, you can keep your costs at around $10-$15 per day. I entered Myanmar with $500 and left 28 days later with money left over (this was in 2011).
If you travel frugally, but comfortably, plan on spending $20 to $30 per day and you will easily have enough to get you through your trip. If you think you will be buying plane tickets to get around within the country, budget at least $100 per ticket. For first class train tickets budget $50. Your tickets will most likely be less than that, but it's better to be safe.
Getting to Myanmar
For now, all visitors to Myanmar must arrive by plane. It is possible to enter through a few land borders, but access is then restricted to those areas. Most visitors arrive in Yangon on flights from Bangkok or Singapore, but there are also some international flights into Mandalay. The cheapest and easiest option is probably an Air Asia flight from Bangkok.
Transportation
The main problem in traveling around Myanmar is that many areas are still off limits to foreigners. What areas exactly are off limits changes constantly. Your guesthouse should be able to inform you or at least guide you to someplace that can.
Planes
Flying is the easiest, but also the most expensive option by far.
Trains
Trains in Myanmar are ancient, slow, crowded, hot and generally pretty miserable over long distances. Over a short distance, they can be a wonderful cultural experience. Trains are relatively expensive as the government hits foreigners with a hefty surcharge.
Buses
Buses in Myanmar range from comfortable, air-conditioned (i.e. freezing–bring something warm to wear) to some of the worst you'll see. Luckily, you have many options for any popular routes and can basically pick your desired level of comfort. Buses are far and away the best way of getting around Myanmar, as the government doesn't impose the same hefty surcharge as it does with train or plane tickets.
Other Forms of Transport
In more rural areas, you will often be forced to rely on private cars or public jeeps. Both will try their best to overcharge you, so try to figure out what the locals are paying and don't pay too much more. You will be hard pressed to get the same price, but I find paying a little more reasonable.
Accommodation
Even with the recent increase in prices, you will still be able to find accommodation for under US $10 per night almost everywhere in Myanmar, except for more rural areas that see few tourists. The cheapest rooms will not be nice, though and you'll have to do your searching once you've arrived in the country, because the cheapest places are not listed online. If you prefer to book ahead, Agoda (link to their Myanmar page) has a quite a few listings in all price ranges but the absolute lowest.
I never booked ahead, but I did run into some difficulty in finding available rooms at times. The hotel shortage has only gotten worse, so you might want to consider arranging at least a night or two ahead of time in any new location, if you'd rather not deal with the added stress of having to find a room.
Paying extra for an air-conditioned room may not be worth it, as all of Myanmar suffers from nightly power outages. Mid-range hotels will often have generators, but will not usually use them to run air conditioners. Only the larger, more expensive hotels will have an uninterrupted power supply.
Eating & Drinking
Drinking
You should probably stay away from tap water and ice and stick to bottled water and boiled drinks like tea. If you want to drink alcohol, drink at local "beer stations" for a unique experience and large savings, but be prepared to be the center of attention—they do not see many, if any, foreign customers.
Eating
Burmese food is a mixture of several cuisines (Chinese, Indian, various indigenous cuisines) and thus quite varied. A lot of it can be very oily though and many travelers complain about the food before too long.
Street food usually costs $1 or less and fruit is very inexpensive as well. A meal in a standard restaurant will run you a few dollars and up to $10 in the most expensive places.
Western food is available in all touristy areas. It is generally not very good (there are some exceptions, though) and overpriced.
Safety
The crime rates are very low in Myanmar, since the government punishes crimes against tourists very harshly. Corruption also does not usually affect Westerners. There are some scams to be found in touristy areas, but far fewer and far less advanced than in neighboring Thailand.
The biggest danger to tourists are generally the microbes. Food borne illness is very common and malaria and dengue fever are endemic. You will definitely want the standard vaccinations for travel around SE Asia (Hepatitis, Typhoid, etc.). The CDC website will have up to date health information for travelers to Burma.
Money Saving Tips
travel by bus, not train or plane
take public buses instead of taxis in the cities
eat local food at street stalls or small restaurants; avoid western food if possible
avoid hotel bars and clubs if you want to drink; visit local "beer stations" instead.
limit the number of attractions you visit—entrance fees, which go directly to the government, will add up
never accept the first price on anything—bargaining is expected; that said, the prices quoted are nowhere near as inflated as neighboring Thailand, so there's no need to bargain quite as aggressively in Myanmar
Additional information on Myanmar can be found at the US Department of State website as well as the CIA World Factbook.