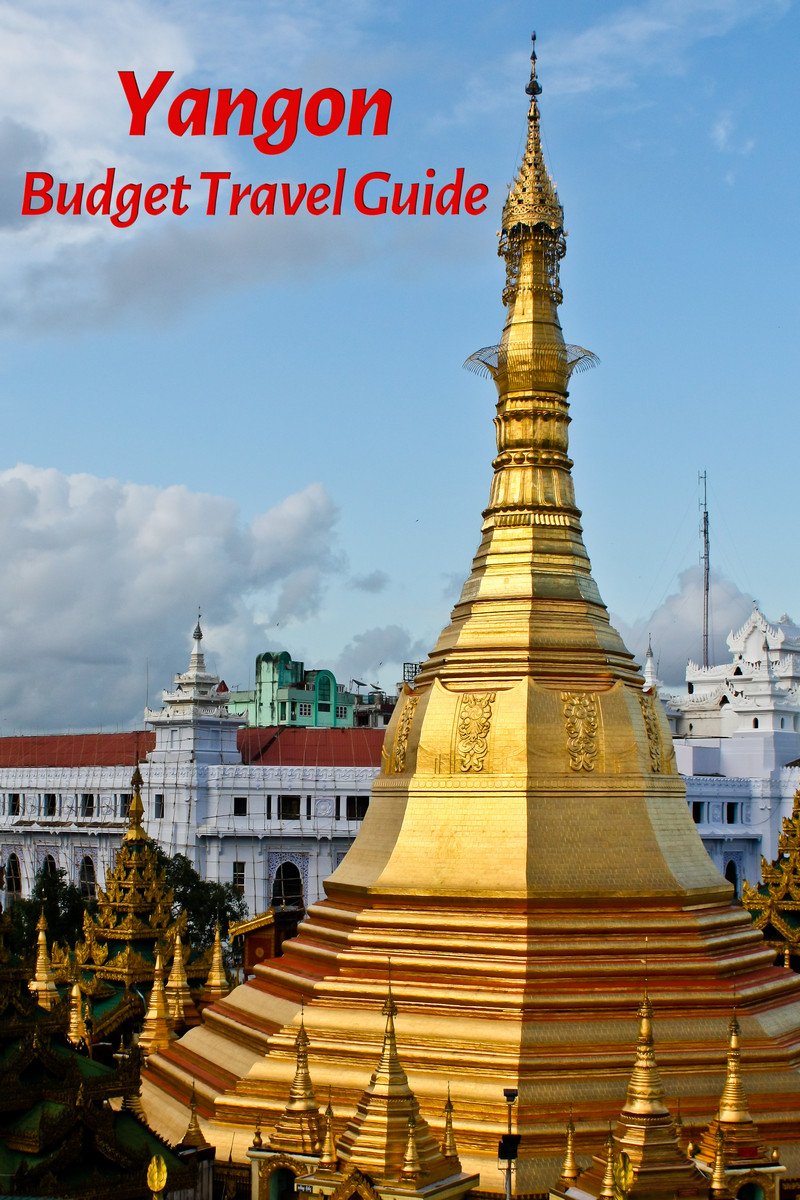 Considered by many the most exotic of Southeast Asian cities, Myanmar's largest city is one of my favorites as well. Blood red betel nut spit stains the crumbling streets and sidewalks, which are lined everywhere with vendors selling every product imaginable. You have a few skyscrapers, a lot of old colonial buildings, ancient temples, a busy waterfront, green parks, endless food options and piles of garbage everywhere; and you can walk among all of it all day long and see only a handful of foreign tourists; perhaps even none at all.
Note: Due to a huge increase in visitors to Myanmar, prices have been skyrocketing. Locations and modes of transport I've listed as offering the lowest prices will still offer the lowest prices, but those prices will likely be considerably higher than they were when I visited in 2011 (last edited on Apr 5, 2013).
Best Time to Go
November to February is the best time to visit Yangon, as the temperatures are more bearable, it is much less humid and it rains the least. In the hot season from March to May, temperatures can reach 40ºC or higher, but the Thingyan festival (water festival similar to Songkran in Thailand) is held in April. The rest of the year is the rainy season when many roads around Myanmar can become un-passable
Getting to Yangon
Virtually all first time visitors will arrive by plane at the Yangon International Airport (called Mingladon), which is located about 30 minutes north of the city center. Taxis are the easiest way to get to the city and they cost $10 pre-paid. If you walk out to the road and down a ways, you will be able to hail a taxi off the street and knock a few dollars off the price if you bargain very hard.
If you really want to save some money, turn right after exiting the terminal and walk down the road for about 10 minutes until you reach Pyay Road. From here, you can take bus #51 all the way downtown (one block east of Sule Paya) for 200 Kyat.
Transportation
I walked most places in Yangon although that is not always pleasant given the heat, the crowds in certain places and the general condition of the sidewalks.
Taxis are your best bet if you don't want to walk or are covering longer distances. Genuine taxis have a driver ID, red license plates and a green slip; any taxi is fine in Yangon though. Very few will try to rip you off, but all will impose a standard 'foreigner surcharge'. Agree on a price beforehand and expect to pay around 2500 to 3500 Kyat for destinations within the city (like Shwedagon Pagoda). Hiring a taxi for a longer period should run about 3000 Kyat per hour.
Buses are by far the cheapest option for getting around, but they are crowded and confusing. Your guesthouse can help you out with bus routes. I encourage you to take at least one bus in your time in Yangon, simply for the experience (check out my experience with a public bus in Yangon).
Accommodation
Due to government control and hefty surcharges for foreigners, the accommodation situation in Yangon is not pretty. You will pay more and get far, far less for your money than elsewhere in Southeast Asia.
When I went (2011), Motherland II was the most popular with backpackers, due to a somewhat dated Lonely Planet review. From what I heard, this place is extremely overpriced (probably because of the review) and very rundown. I would advise staying elsewhere.
Accommodation options in all price ranges are scattered throughout the city, but the absolute cheapest are located right downtown in the streets surrounding the Sule Pagoda. The bus from the airport (#51) drops you off one block east of the pagoda; or just take a taxi to the pagoda. Most guest houses lie to the west of it.
Here you will find rooms (prison cells, really) for under $10 . Keep your expectations for luxury low. When I went, I just walked around and checked out a bunch of places. Few are listed in guide books or online, especially not the best bargains.
These days, rooms in Myanmar are a bit more scarce, so it might not be a bad idea to book a night or two in advance to make sure you have a place to stay when you first arrive. You'll pay a bit more since the cheapest places aren't online, but you can still find a few good deals. Here are three places near downtown that have reasonably priced beds:
Agga Guesthouse: beds $11 and singles $16; pretty good location about 1km west of Bogyoke Market and a bit over 1km from Sule Pagoda; I recommend this one if you're going to book a night or two in advance
30th Corner Boutique Hostel: beds $22 and singles $30; great location between Bogyoke Market and Sule Pagoda, about 200 meters from each
Hninn Si Budget Inn: singles $22 and doubles $33; located east of downtown, just over 2km from Sule Pagoda
Agoda's Yangon page has many more listings and an excellent accommodation map you can use to scout out some places before arriving.
Eating & Drinking
Drinking
You won't find much nightlife in Yangon. Some of the higher class hotels have nightclubs, but expect to pay a lot, especially by local standards. The cheapest place to drink are the local "beer stations", where you can get a pint of Myanmar Beer for 500 Kyat. These places get very little, if any, foreign customers, so you WILL attract attention.
Eating
These days, Yangon has food options in every price range and offers every type of international cuisine.
Street food is the cheapest option with most dishes available for under $1. Sanitary conditions are not the best, with dishes simply dunked in a bucket of tap water to wash them and most of the food (but not all) cooked in large amounts of cheap oil. That said, I ate street food for most of the 28 days I spent in the country and never got sick.
You will find street food options with miniature tables and chairs all over the city, but the largest concentrations are around the Sule Pagoda and especially on Anawratha Road or Mahabandoola Road. Both streets are lined by one stall after another for about a 3km stretch.
If you eat at the cheapest restaurants instead of the food stalls, the prices double; for somewhat nicer local restaurants or bad international ones, they double again; double them once more for upscale local or most international restaurants; finally double them again for upscale international cuisine.
Safety
The crime rates are very low in Myanmar, since the government punishes crimes against tourists very harshly. Yangon is safer than any other large city in Southeast Asia.
The one crime tourists are most likely to fall victim to is being short-changed when exchanging money. The worst offenders are found around Sule Pagoda; I would strongly advise against changing money there. No matter where you change your money, though, count it carefully and make sure no one else touches it after you have counted.
The situation in Myanmar is constantly changing and it seems it is no longer necessary to change money on the black market. If you choose to do so anyway, the changers at the Bogyoke Aung San Market are your best bet. Read about my experience changing money there for more information.
Things to Do
Yangon has a lot of parks, temples, stupas, etc that I won't list here, because they're listed everywhere else. For me the most exciting thing about the city is basically observing everyday life: just walking around, riding public transport or sitting at a sidewalk tea shop.
Schwedagon Pagoda: Myanmar's most famous attraction
The Circular Train Line: doesn't really take you anywhere, but offers a fascinating look at daily life in Yangon; $1 for a ticket at the Station Master's office on platform 7 at Yangon Station– passport required; train departs from platform 4 or 7 (either direction is fine); it takes three hours to complete the loop, but you can get off anywhere and take a taxi back if you want.
The Dallah Ferry: everyone who visits Myanmar should take a local ferry at some point—it's a truly unique experience, more floating market than public transport. You can combine the ferry with a trip to Twante (see below). The ride costs $1 (passport may be required, so bring it) and it leaves from the Pansodan Road Jetty, just across from The Strand Hotel.
Twante: a nearby delta town and a nice day trip
Bago: historic city with many Buddhist sights; a nice day trip
Money Saving Tips
take a bus from the airport (see arriving section above)
take public buses instead of taxis
eat local food at street stalls or small restaurants; avoid western food if possible
avoid hotel bars and clubs if you want to drink; visit local "beer stations" instead.
limit the number of parks, temples or stupas you visit—entrance fees, which go directly to the government, will add up
never accept the first price on anything—bargaining is expected; that said, the prices quoted are nowhere near as inflated as neighboring Thailand, so there's no need to bargain quite as aggressively in Myanmar