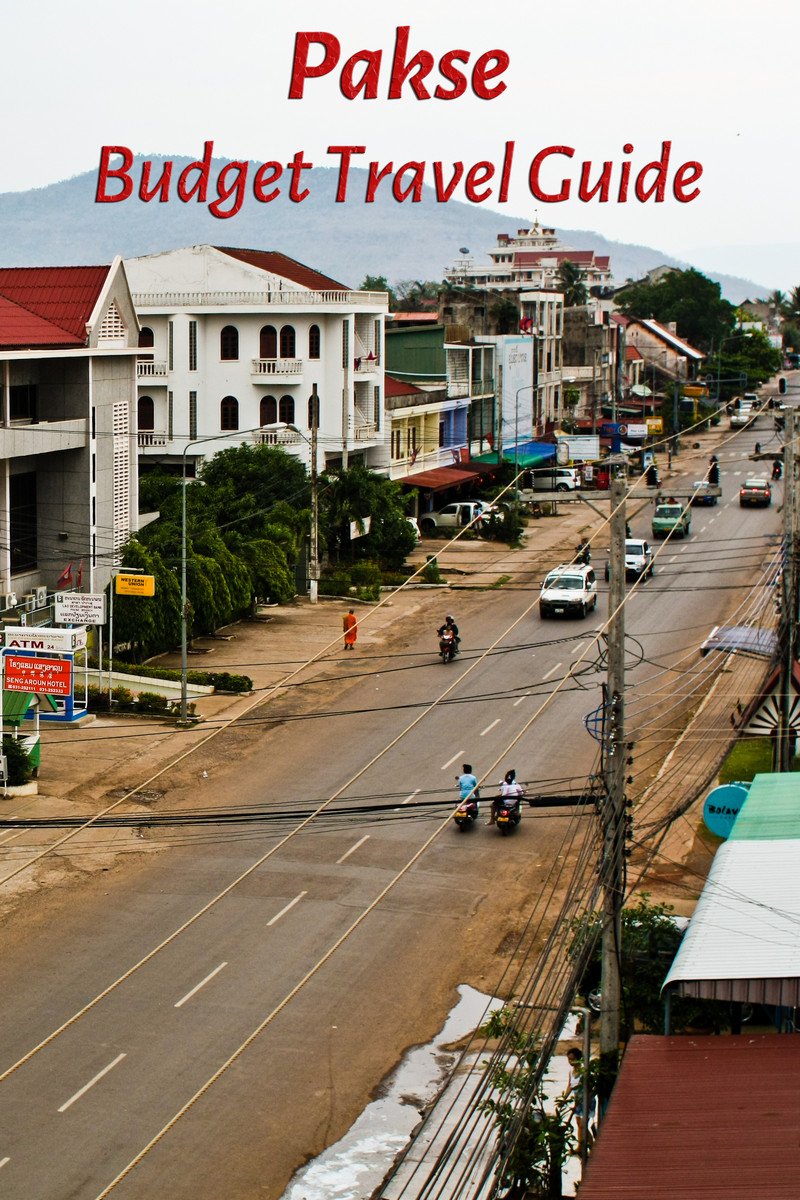 Pakse is the third largest city in Laos and the gateway to the southern part of the country. If you plan on going to the Bolaven Plateau, Si Phan Don (4000 Islands) or Wat Phou, you will most likely find yourself in Pakse. The town itself doesn't really have much to offer, but could be a pleasant enough place to use as a base for the area, if accommodation prices weren't so high.
Best Time to Go
The best time to visit Pakse is during the dry season from November to March, when temperatures are cooler. March to May is the hot season and the temperatures can reach 40ºC or higher. The wet season runs from May to October and the rains could cause some trouble for those looking to explore the region.
Getting to Pakse
If arriving by plane, you can catch a tuk tuk or moto ride to downtown for 10,000 to 20,000 Kip, depending on your bargaining skills.
If arriving by bus, they will probably let you off directly downtown, so you can just walk to most guesthouses. If you end up at the bus station 2 km away at the market, you'll pay about a dollar for a tuk tuk to the city center.
Transportation
Tuk tuks around town should not cost much. A ride to the market, for example, will be 5000 Kip.
Bicycles can be rented for 10,000 Kip per day and motorbikes generally start at 60,000 Kip.
Accommodation
Good luck finding budget accommodation in Pakse—for some reason prices are higher here than almost anywhere else in the country and you definitely don't get your money's worth. And somehow, everything seems to fill up quickly too.
Most places are located on the main street around the town center, with few more down various side streets. It's hard for me to even recommend a place, as none of them are worth the money. You might see the Sabaidy 2 Guesthouse listed in the Lonely Planet, but they have clearly stopped trying since being listed and have also bumped up their prices to near-ridiculous levels.
The cheapest rooms are only available if you walk around and find them after arriving, but everything seems to fill up pretty quickly. It took us a bit of searching until we found a room and we did not like the place we ended up at. If you're going to book ahead, the best value for your money is the Phi Dao Hotel. They have pretty nice rooms for $17 and they're located right downtown.
If you want something cheaper, go with Mely 2 Hotel. Single rooms are under $10 and it seems to be a bit nicer than the other really cheap places. That still doesn't mean it's great, though and it's located a ways from the center of town, too.
Eating & Drinking
Drinking
Enjor a Beer Lao overlooking the Mekong or torture yourself at one of the local nightclubs (ask your guest house staff where to go on a particular night)
Eating
Pakse has a lot of variety, with most foreign restaurants on the main street and good (and much cheaper) local places along the street just to the south of there (Thanon 46). As is the case in many cities in Laos, Pakse has some good Indian food.
For a cheap lunch, try the Dauruang market (see the 'Things to do' section below).
Things to Do
There is very little to do in Pakse itself, but quite a lot in the surrounding areas.
Money Saving Tips
eat local food on Thanon 46 or head to the Donruang Market on Thanon 38 for lunch; avoid western food (the Indian food is generally not too expensive)
never accept the first price on anything—bargaining is expected
ask around when booking VIP bus tickets—some places will rip you off, so don't buy at the first place you find, especially if the price seems higher than what you've generally been paying in Laos