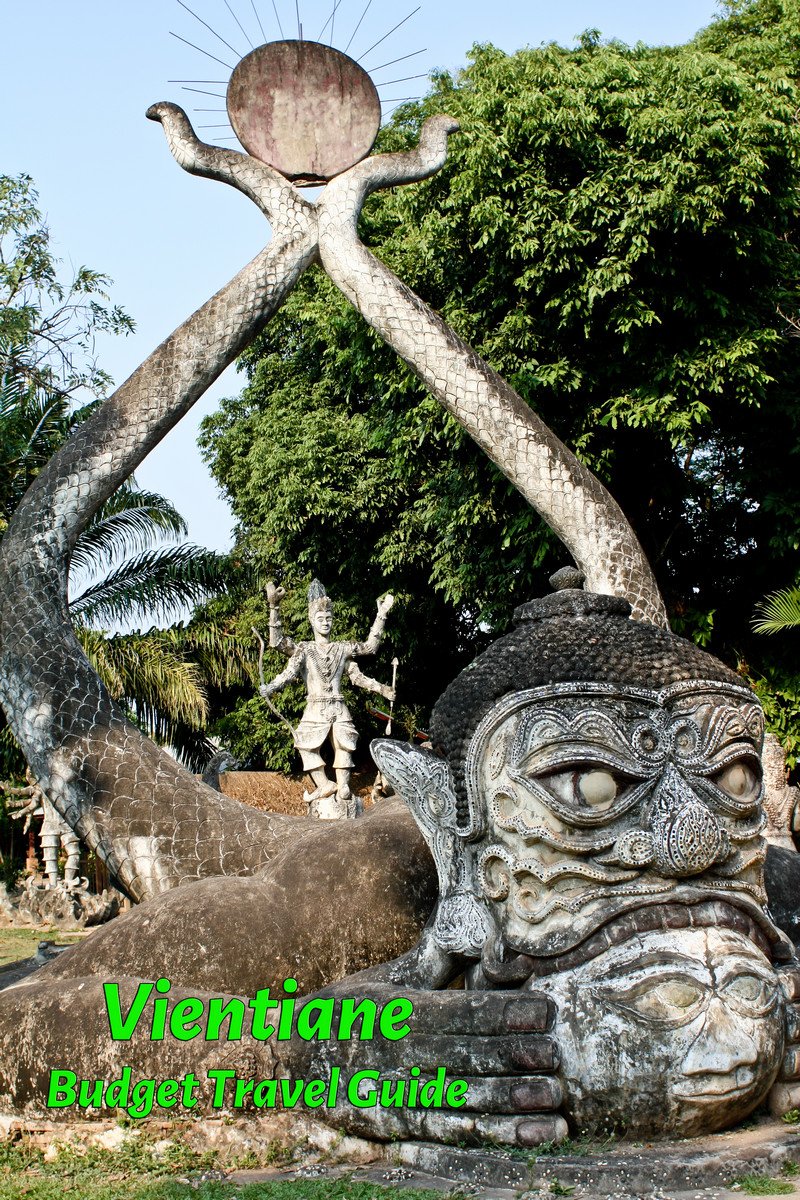 While other Southeast Asian capitals are chaotic, polluted, energetic and crowded, the capital of Laos feels like a small town. That's mainly because Vientiane is, in fact, a small town. With a population of around 800,000, it has to be one of the world's smallest capital cities. There isn't really much to see or do here, but when you're sipping a cold Beer Lao while gazing out over the Mekong River, you probably won't care.
Best Time to Go
The best time to visit Vientiane is during the dry season from November to March, when temperatures are cooler. March to May is the hot season and the temperatures can reach 40ºC or higher. The wet season runs from May to October.
Getting to Vientiane
If arriving by plane, taxis at the airport will ask for $7 for the short ride to the city. If you walk a few hundred meters to the street outside you can get a cab for $2 or $3; cross the street and take the public transport for 30 cents or so.
Many people will fly from Bangkok to Udon Thani in Thailand, then cross the border by bus. The domestic flight to Udon Thani is much cheaper than the international flight to Vientiane.
If you take a train to Udon Thani from Bangkok (800 Baht for a second class sleeper), you can now connect to a shuttle train that will take you across the border into Laos. Unfortunately, the station is far from Vientiane and drivers charge 100 Thai Baht per person for a ride into the city.
If you arrive at the border by bus, you will have several options for getting to the city once you are in Laos. Taxis will ask for 300 Baht. A private Jumbo will want 250, but you should be able to get that down to 100 Baht. With both of these options, you will leave immediately. A shared jumbo should cost you no more than 50 Baht, but you might have to wait until it fills up. Public buses are the cheapest option at 20 Baht (5000 Kip). Take #14 to the Morning Market (Talat Sao).
If you are coming to Vientiane from Cambodia, Vietnam or Southern Laos, you will end up at the Southern Bus Terminal; if you arrive from Northern Laos, you will find yourself at the Northern Terminal. Either way, you will be a ways out of town and can either try your luck at getting a fair price from the tuk tuk drivers or just take public transport to the Morning Market. Pretty much everyone at the bus stations will swear the public buses don't exist, but they're lying. From the Southern Terminal, you want bus #23.
Transportation
As a tourist, you basically have four options when it comes to transport. You can take tourist tuk tuks, regular tuk tuks, shared jumbos or rent a bicycle. Tourist tuk tuks hang out in tourist areas and they will have laminated cards showing their fares. Don't pay what's on the card—you'll be able to bargain them down, but you'll still get nowhere near a fair price (generally about 10,000 Kip for short distances)
Regular tuk tuks can be hailed off the street; they don't generally just hang out in tourist areas. You will get better prices from them, but make sure not to hail one near a bunch of tourist tuk tuks—they will harass the driver and maybe worse.
Shared jumbos are the cheapest option. Basically a bus for all intents and purposes, they run regular fixed routes around town and charge a few thousand kip per person.
As Vientiane is a flat city and it has nowhere near the traffic of other Southeast Asian capitals, renting a bicycle is a good option. The cost is usually 10,000 Kip per day.
Accommodation
Due to a government effort to ensure quality (i.e. increase prices), budget accommodations are hard to come by in Vientiane. If you walk around the town center you should be able to find something, although the cheapest places fill up fast, since there are so few of them. In the high season (October through April, but especially January) you may have a hard time finding anything.
The first time I went to Vientiane, I walked around forever looking for a cheap room, but ended up having to pay way more than I wanted for the first night. The second time, I booked ahead. I recommend booking a few nights online and then finding somewhere else once you arrive, since the cheapest options are never listed online.
If you're just looking for a cheap place to lay your head, try the Sihome Backpacker's Hostel. They have decent dorm beds for under $7. If you prefer your own room, you'll pay around $30, but I'd just go elsewhere. The Avilla Phasouk Hotel has nicer rooms for under $30 and it is located right downtown, about a block from the riverfront.
Eating & Drinking
Drinking
Vientiane has a few clubs, but the music is generally very bad and very loud. You best bet is to have a few Beer Lao outside somewhere overlooking the Mekong.
Don't drink the tap water.
Eating
Vientiane has food options in every price range and offers every type of international cuisine. Street food and small local restaurants are your best bets if you're looking to save some money. A bowl of noodle soup, for example, will usually cost under $1.
Safety
Vientiane is a fairly safe city, but bag snatchings have been on the rise. Take care of your belongings when sitting outdoors and don't keep anything valuable in the baskets of rented bikes.
Dogs can be a big problem. Don't walk through dark alleys at night and keep your distance from any dogs you see. If you are bitten, you'll probably want a rabies shot.
Dengue fever is prevalent in Vientiane, especially during the wet season. Take precautions against mosquitoes. The ones carrying Dengue are active during the daytime.
Things to Do
There really isn't all that much to see or do in Vientiane and some would say there's virtually nothing at all. The city has a lot of temples, but none are all that great and don't even come close to the ones you'll find in Luang Prabang.
Pha That Luang: The most important religious monument in Laos and the national symbol; 5'000 Kip; open every day, 08:00-12:00, 13:00-16:00. I didn't bother with this one.
Buddha Park (Xieng Khuan): A park filled with huge and bizarre concrete Buddhist and Hindu sculptures; 24km from the city; can be reached via bus #14 from Talat Sao (the Morning Market) for 6000 Kip. This is worth seeing.
Money Saving Tips
if flying from Thailand, consider flying into Udon Thani and crossing the border by bus; as a domestic flight, this will be considerably cheaper than the international flight into Vientiane
take public transport from the main road outside the airport (see arriving section above)
avoid tuk tuks and taxis and take shared jumbos or rent a bicycle instead
eat local food at street stalls or small restaurants; avoid western food if possible
never accept the first price on anything—bargaining is expected; that said, the prices quoted are nowhere near as inflated as neighboring Thailand, so there's no need to bargain quite as aggressively in most area of Laos