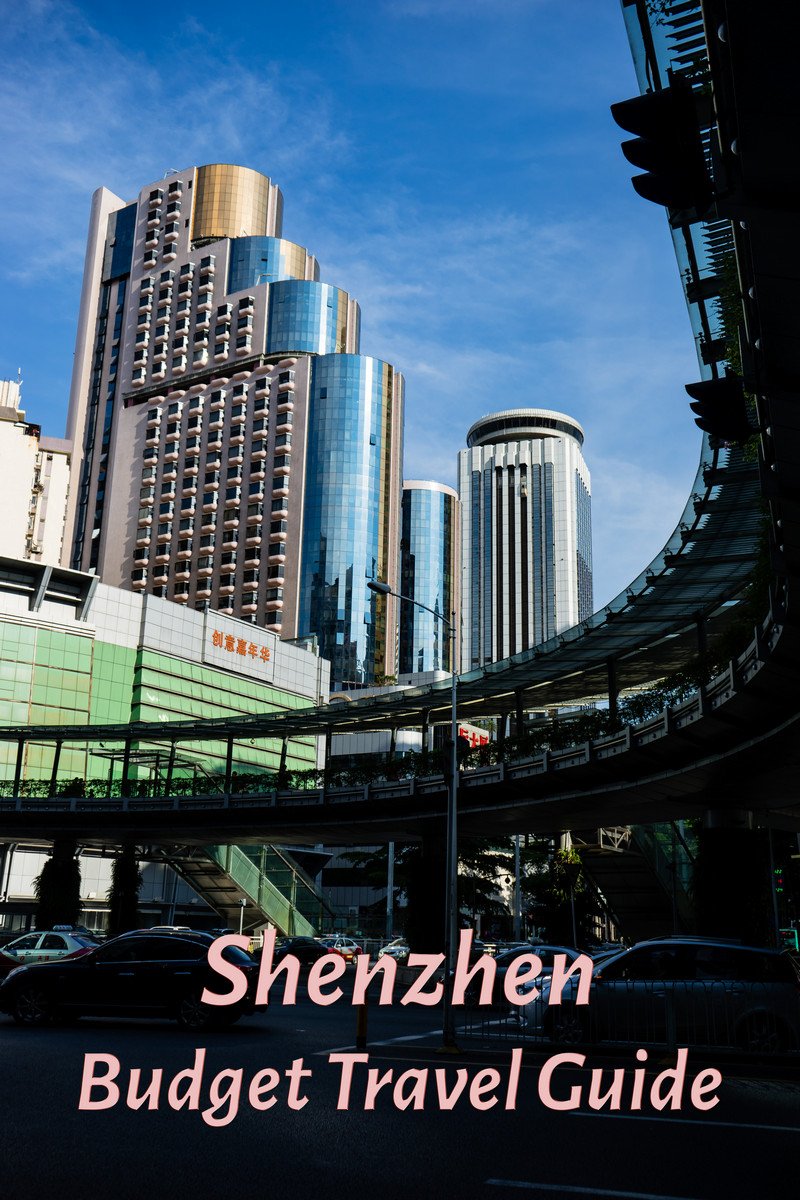 Shenzhen lies just north of the border with Hong Kong and about 100 kilometers south of Guangzhou. It was China's first Special Economic Zone, which invited enormous amounts of both foreign and domestic investment and made it one of the world's fastest growing cities. Today it is the richest city in China and one of the largest. It is also on the list of UNESCO Creative Cities (for design). Shenzhen gets a lot of Chinese tourists, mainly for the amusement parks and the shopping, but it doesn't really have much to offer foreign tourists and not many visit the city.
Best Time to Go
Shenzhen has hot and humid summers and mild, dry winters. The best months to visit are October and November. April and May are pleasant temperature wise, but the monsoon season runs from April through September, so you'll likely get some rain. June to September is the typhoon season.
Getting to Shenzhen
The best way to get downtown from Shenzhen Bao'an International Airport is line 1 of the Shenzhen Metro. It costs ¥5.7 and takes about 50 minutes. You could also take an Airport Suttle bus, but the metro is more convenient. Taxis will cost about ¥100 to central Futian and to ¥150 Luohu.
You could also arrive at Hong Kong international airport and get straight to Shenzhen via the Airport Express train or the airport ferry service.
Shenzhen has three railway stations and all are connected to the Shenzhen Metro. Shenzhen Station lies just north of the Hong Kong border and serves mostly Guangdong regional trains and a few long-distance sleeper trains to some major cities. It also has a high-speed shuttle service to both Guangzhou East Station and Guangzhou main station, both of which have numerous trains to the rest of China.
Shenzhen North Station is located in the northern Bao'an district and has ultra-high-speed services to Guangzhou South, to Wuhan and soon to Fujian province. Shenzhen West Station in Shekou only has a few services to other parts of Guangdong and a couple of other provinces.
There are several bus stations in town. If you are arriving by bus, find out beforehand which station you will arrive at and how to get into town from there. If you arrive at the Luohu Station, that part becomes easy—it is located directly next to the border crossing with Hong Kong and the Shenzhen Railway Station, so you can simply take the subway.
Finally, you could arrive by boat from Macau, Zhuhai or Hong Kong, in which case you'll probably arrive at the Shekou ferry terminal. From there, you can take the subway or the bus into town.
Transportation
The Shenzhen Metro is the best way to get around the city, but the buses are good as well, just a little more difficult to navigate. You'll also find free shuttle buses that run from the immigration building at Louhu to various attractions around the city. If you decide to take a taxi, make sure it has a license in the window. If it doesn't, get a different one; unlicensed taxis will only cause you problems.
Look for the blue and white e-taxis to save the environment as well as a bit of money. All other taxis have a 3 Yuan fuel surcharge, which the e-taxis don't charge. Because of this, they're very popular, but since there aren't that many of them yet, they can be hard to get. Most people take one if they can, but won't bother specifically waiting for one.
Accommodation
Shenzhen does not have a lot of budget options and most of them are pretty bad. You'll find a couple of hostels, but nowhere near the selection you get in cities more popular with foreign tourists. Melbourne's Home Hostel is easily the best, but still a far cry from the amazing hostels in cities like Chengdu and Xi'an. You can't beat the location, though: right downtown near the city's most important subway stop (Grand Theater).
If you don't mind spending a bit more ($25 and up), hotels are your best bet in this city. If you want to stay in the Luohu district, near the Dongmen Shopping Street (see 'Things to Do' below) and the Hong Kong border, go with the Colour Inn.
If you prefer to stay in Futian (it's less sketchy), go with JNS City Hotel for a cheaper room (around $35 for a queen) or the Shanghai Hotel ($55 for a single) for a nicer room and a better location, i.e. closer to the Huaqiang North Commercial District (see 'Things to Do' below).
If you need a room near the airport, you can't go wrong with the Jinjiang Inn.
Eating & Drinking
Drinking
Shenzhen has a pretty good nightlife for China. There are bars and clubs for most tastes, but things are constantly changing. Ask someone at your hotel or guest house where to go on a particular night before going out.
Currently (May 2014), the main nightlife areas are in Shekou (Sea World Station on metro line 2), the area surrounding the COCO Park shopping mall in Futian (Shopping Park Station on metro line 1), the bar street at the OCT (see 'Eating' below) and around Dongmen in Luohu. The first two are the most popular with foreigners, while the last caters more to Chinese tastes.
Eating
You'll find any type of restaurant and any price range in Shenzhen. Overseas Chinese Town (OCT) has a large number of dining options. It's an especially good place to get great Korean food. It's located behind the Inter Continental Shenzhen Hotel near the Hua Qiao Cheng (OCT) Metro Station.
Shenzhen is famous for its "Eat Streets", serving cheap food from all over China. Different Eat Streets specialize in food from different parts of China. Some of the Eat Streets are:
Che Gong Miao Eat Street:  Sichuan, Hunan and Taiwanese food; Che Gong Miao Metro Station
Yantian Eat Street: Hong Kong style seafood
Bagua First Road Eat Street: food from all over China; apparently good snake from Oct to Jan; Ba Gua Er Lu or Kang Tai Wu Le Cheng bus stops (buses #7, 13, 24, 105)
Hubei Village Eat Street: Hong Kong style seafood and Chinese Muslim food  (buses # 2, 10, 29, 104, 205, 220, 223, 311, 312)
Xinwen Rd Eat Street: Heilongjiang, Jiangxi and Hunan food; Xiang Mi Hu Metro Station
Huaqiang Bei Eat Street: Hunan, Chaozhou and some muslim food
Nanyuan Rd Eat Street: Uyghur food; Ke Xue Guan Metro Station
Gangxia Village Eat Street: Beijing, Shanghai, Yunnan  and Ningxia/Gansu Muslim food ; Gang Xia Metro Station
Dongmen Food Street:  Cantonese, Sichuan and Hunanese; also Thai, southeast Asian and even German; Lao Jie Metro Station
Shuiwei Village Eat Street: Cantonese
Donghai Koreatown Eat Street: Korean; Che Gong Miao Metro Station
Huanggang Village Eat Street: Cantonese
For foreign food, your best bets are Shekou (Sea World Station on metro line 2) or the COCO Park shopping mall in Futian (Shopping Park Station on metro line 1).
Safety
Shenzhen has a reputation among the Chinese as the most dangerous city in the country, but it's still relatively safe by western standards. The main problem is petty crimes like pickpocketing. Just pay attention to your valuables, especially on crowded buses, subways, in stations, at markets, etc. and you'll be fine.
Things to Do
Dongmen Shopping Street: perhaps the best place in China to get great deals on clothing and other items, but you'll definitely need to brush up on your bargaining; near Hubei Station on subway line 2
Huaqiang North Commercial District: this is where you get electronics, especially cell phones and computers (even ones bought in the west will likely have passed through here at some point in their lives); bargain hard and be careful of low quality products; Huaqiangbei Station on subway line 2 or Huaqiang Station on line 1
Dafen Oil Painting Village: home to thousands of skilled painters and sculptors; you can get very well made replicas of famous paintings, original art work or commission your own (they'll paint anything from a photo), all for very low prices; you can also watch local artists at work, find any art supplies you might want and visit the art museum; Dafen is well worth a visit if you enjoy street photography or have any interest in art; located in the northeastern suburbs, at Dafen station on the Longgang line (line 3 or the blue line) of the Shenzhen metro
Amusement Parks: Shenzhen has a ton of amusement parks that are popular with Chinese tourists, many of whom come to Shenzhen solely for the parks. Compared to parks in the west, they're generally pretty tacky, but can still make for a fun day if you have nothing else to do
Shenzhen Library: pretty amazing architecture; 2016 Fuzhong 1st Road in Futian; either the Civic Center (Shimin Zhongxin in Chinese) or Children's Palace (Shaonian Gong in Chinese) Metro Stations or the Children's Palace (Shaonian Gong) bus stop (Buses # 25, 228, 65, 111, 71, 64,)
Shenzhen Concert Hall: same place as the library above
Xin'an (Nantou) Ancient City: an old Cantonese town much of which is well-preserved, including the Ming Dynasty wall and gate, the Guan Yu Temple, the naval and civil headquarters, a silver shop, an opium den and a brothel
Crane Lake Fortified Hakka Village and Hakka Culture Museum: largest of the fortified Hakka settlements that doubles as a museum of Hakka culture;  NanLian Station on metro line 3
Beaches: Shenzhen has some of China's best beaches, most of which are found on or near Dapeng Peninsula, which was named one of China's top ten most scenic coastlines by Chinese Geographic Magazine in 2006. Xichong Beach takes a bit more effort to get to than most, but it is probably the best beach in the area, as it's cleaner and less developed than the closer and more popular beaches Dameisha and Xiaomeisha. Dameisha is free and by far the most popular, but it's not great for swimming. Xiaomeisha is much nicer and less crowded, but you'll have to pay an entrance fee (around 20 Yuan and definitely worth it).
Hiking: Shenzhen has a ton of hiking opportunities, with its abundance of hills, reservoirs and beaches. Some of the more famous hikes include Wutong Mountain, Nanshan Mountan and the Yantian Walk along the coast. You can read about my sweaty visit to the Meilin Reservoir here.
Money Saving Tips
do not take a taxi from the airport or the train stations; take the Shenzhen Metro instead
if arriving by long distance bus, find out beforehand where you will arrive and if there's a metro connection downtown; if not, find out how to get where you want to go by public bus
with all the "eat streets" in Shenzhen, there's no need to go to an expensive restaurant; you can get great food quite cheaply