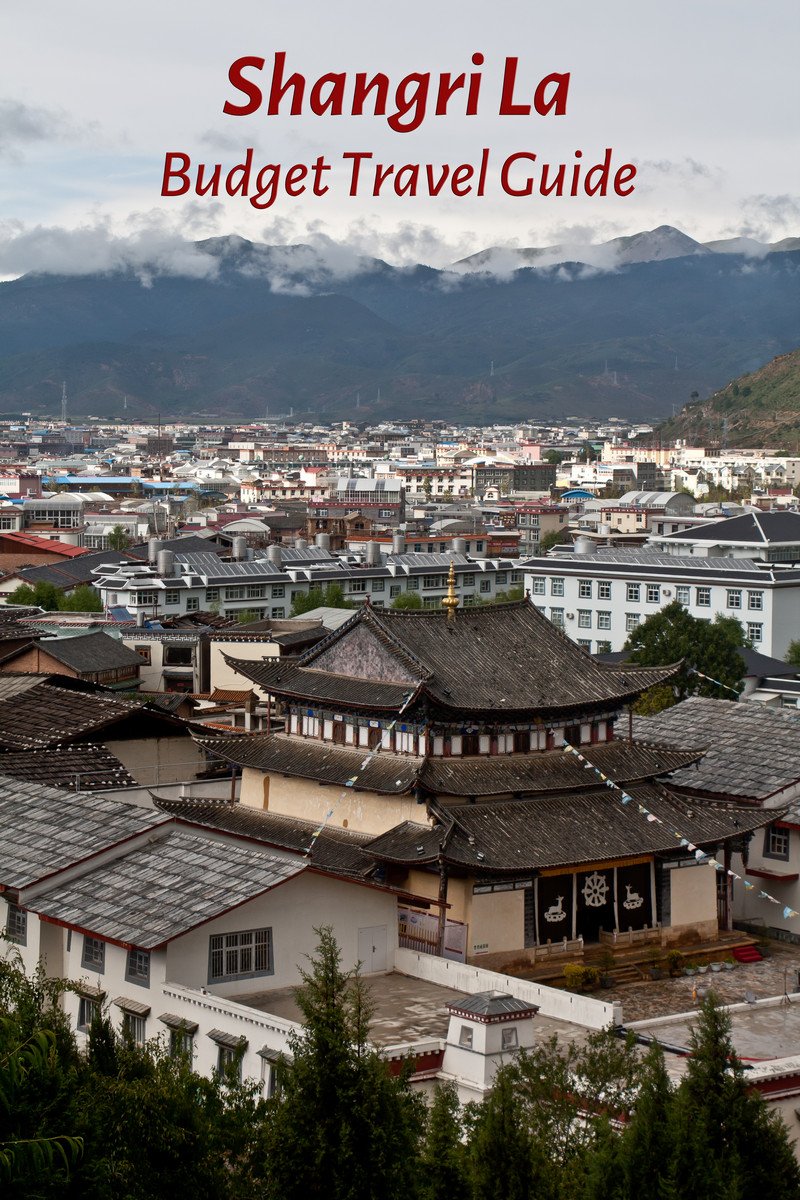 Originally called Zhongdian, but renamed Shangrila for marketing reasons, this Tibetan town in the north of China's Yunnan province does resemble James Hilton's mythical Himalayan utopia, at least in terms of geography. At an altitude of 3200 meters and surrounded by meadows and mountains topping 6000 meters, Shangrila is unquestionably beautiful and luckily, it has yet to attract the same tourist hordes that visit nearby Lijiang and Dali, despite the old town looking similarly touristy.
Best Time to Go
Due to its high altitude, Shangrila never really gets hot. The summers are warm and wet, while the winters are very cold and very dry. I went in July and it was so cold I ended up buying a winter jacket, but part of that was due to the constant rain, which falls mainly from June to September. The best times to visit would be just before or just after this rainy season. In winter, roads to the area are often closed.
Getting to Shangrila
Shangril's Diqing Airport handles flights from Kunming, Chengdu, Lhasa, Guangzhou and Shenzhen.
Most people arrive by bus from Deqin, Lijiang or the Tiger Leaping Gorge, but you could also come from further away, like Dali, Kunming or Chengdu. There are even buses connecting to Lhasa in Tibet. You can take bus #1 to get to the old city from the bus station.
Transportation
Buses are the cheapest way to get around, with bus #1 connecting the old city and the bus station to the south and bus #3 heading to the Songzanlin Monastery. You can also rent bicycles from several places in town for 20 to 30 RMB per day. It is possible to rent motorbikes as well.
Accommodation
You'll find numerous budget options in the old town of Shangrila and you should be able to walk around a bit and find something fairly easily. If you prefer to book ahead, Tavern 47 is probably the best hostel in town. If you prefer to stay out in the grasslands, the Lao Shay Youth Hostel is the place for you.
You'll find a number of other options on Agoda's Shangrila page, along with an excellent accommodation map. Even though I rarely make reservations, I like using their maps to get oriented in a new city.
Eating & Drinking
You'll find almost any kind of cuisine in the old town as well as numerous western style bars, but all of them charge tourist prices, even the Chinese and Tibetan places. To get the cheapest food, you'll have to head out into the newer areas of Zongdian. That said, some of the restaurants in the old town are quite good. In fact, the yak burger at N's Kitchen was one of the best burgers I've ever had and well worth the higher, yet very reasonable, price.
Things to Do
Old Town: the old town of Shangrila is beautiful, but it is also very touristy; all the prices are quite inflated and you won't find any authentic goods here—everything's a knockoff; there's dancing in the square every night from 7pm, but it seems this has become quite touristy as well
Songzanlin Monastery: located on a hill a few kilometers north of town, this monastery is very impressive, but these days also very touristy; get there via bus #3 (¥1) or take a taxi for ¥20; entrance is ¥85 (¥55 for students aged under 25)
Pudacuo (or Putacuo) National Park: beautiful scenery and you'll want to spend a full day here if possible; no public transport to the park, so you'll have to hire private transport; you should pay around ¥200 for the admission fee and transport
Visit Private homes: many locals accept tourists into their homes to hang out, have a meal and in some cases ride their Tibetan horses; they'll expect compensation, but they don't generally ask for much—this is usually well worth it and a great experience (although personally, I'd stay off the horses…)
Shika Mountain: you can climb the mountain or take a 45-minute cable car ride for ¥220
Skiing: there's a new ski resort on Shika Mountain; from ¥160, including all equipment and fees for 2 hours; closed Apr to Sep
Explore the Countryside: the area around Shangrila is beautiful and it's worth exploring the scenery and surrounding villages by hired car, bicycle or motorbike
Tiger Leaping Gorge Trek: catch any bus south and get off at Qiaotou for the beginning of this famous trek
Money Saving Tips
take the public bus line #1 to travel between the old town and the newer parts of the city
take the public bus line #3 to get to Songzanlin Monastery
while there's some really good food in the old town, it's not the best place to eat if you're looking to save money; instead head to the newer areas, especially near the bus station
if you buy anything in the old town, bargain very hard; the clothes are all knock-offs, no matter what they tell you and should not cost anywhere near the prices they're asking—they will go much lower if you haggle