If you're the kind of person who cares about their hair, you probably shouldn't travel around Asia for a long enough period of time that you'd need to get it cut. Of course there are some excellent barbers in Asia who also speak good enough English to understand what you want, but it would be cheaper to just fly home and get a haircut there than to visit one. Travelers with normal budgets generally end up sitting in this chair:
Now obviously, that's a slight exaggeration. While you will find plenty of sidewalk barbers in Asia, some of whom even double as dentists, pulling out teeth for a few cents each, you will also find plenty of regular barber shops and beauty salons that charge very low prices by western standards. The language problem, however, is very real.
Even if you know enough of the language to do most other things, for some reason you will still be unable to explain to a barber how you'd like your hair cut.  You could be having a long and detailed discussion of Schopenhauer's On the Fourfold Root of the Principle of Sufficient Reason in Chinese with your barber, but the second you start trying to explain how you'd like to look when you leave, you will get one of two expressions.
You might get the huge grin and accompanying enthusiastic nod or you might get the dirty look. Either way, if you care at all about your hairstyle, leave. Immediately. The dirty look means, "You're in my country, learn my language, asshole!" It also means that no attempt whatsoever will be made to get you looking good. The nod and grin means, "I have no idea what you're saying, but don't worry, I'll make you fabulous!" You will not leave looking fabulous.
Faced with two possible outcomes, both of which will result in a ridicule-inviting new hairstyle, you may wonder, "What do I do?" Well, the easiest solution is to simply not care at all what you look like. If you find this difficult, just take a look around you (assuming you're already in Asia—if not, go to Youtube and type the name of any Asian boy band into the search bar). If you just laughed out loud, you're on the right track. Now just realize that you're going to have that same reaction every time you look at yourself in the mirror for the next few weeks and accept it.
I've personally had a lot of hilarious experiences at various hair salons and barber shops in a number of countries over the years, but the first that popped into my head when thinking about this post happened in Shanghai during my second week in China. At the time I could neither speak nor understand a single word of Chinese beyond "yes," thank you," "that's way too expensive" and "no I don't need my shoes shined." As you might guess, this led to some problems.
I wanted a simple haircut with no extras, but that option is not available to people with half a tube of gel in their hair, so I had to get a shampoo as well. It comes free with the standard haircut, but it's not the price I object to. I simply don't like having people do things for me that I can do myself.
A nice bonus with the shampoo for people who aren't me is the head massage. People who are me involuntarily try to escape the squirming fingers by sliding out the neck hole in the sink and down the chair, which causes those same fingers to pull them back up by the hair. Once we established that I was not a fan of the freebies, we got to the point of my visit: the actual haircut.
I did a great job of pantomiming that I would like my hair shortened by about half. Or so I thought. I mean, the guy gave me a huge smile and practically nodded his head right off his neck. Proud of myself for my nonverbal communication skills, I did not realize that, while my gestures may mean, "Shorten my hair by half" in the west, in China they apparently mean, "I'd like to look just like you." That might not even be so bad, except my hairdresser looked something like this: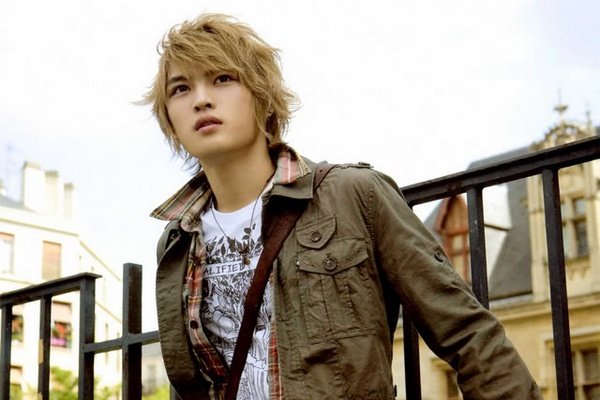 And amazingly, he actually accomplished the look fairly accurately. While he was doing this, another guy approached me with another freebie: q-tips for a complimentary ear cleaning. He was quickly waved away. When I finally saw my completed Asian-boy-band hairstyle in the mirror, I couldn't help but laugh and my hairdresser laughed right along with me, probably thinking this is what westerners do when they get the coolest haircut of their lives.
Once the laughter subsided, it slowly began to dawn on me that I would have to walk back to my apartment with my new style and I actually contemplated putting myself through another shampoo just to wash the look away. In the end, I decided not to hurt the poor kid's feelings and to just make a run for it.
I realize now that if I'd had the clothes to match the hair, i.e. pants so tight you couldn't slide a pencil through the legs and some kind of ridiculous vest, I would have probably gotten a lot of approving stares. As it was, I imagine I just looked really confused. Or maybe I looked like I was working on slowly improving myself from the top down—this week: ultra-cool hairstyle, next week: a scarf (despite it being August and 35°C in the shade). Either way, I got invited to twice the usual number of karaoke nights over the next few weeks.