What does it take to be a backpacker? Common sense says it takes a backpack; but what about those who carry backpacks while staying in luxury hotels or traveling as part of a tour? Or those who travel cheaply, but prefer a suitcase to having all their possessions strapped to their backs? Ask ten people and you'll get ten definitions, so I've decided to take matters into my own hands and come up with a definitive answer.
I began my inquiry by collecting data using the most advanced scientific tools and methods available to me: two eyes and some questionable powers of deduction. After an extensive analysis of said data that involved me eating a pizza and…well, I ate the whole thing anyway. As for the data, I took my observations of average backpackers, jumped to a number of quick conclusions and came up with a few simple things you'll need to do to join the backpacking ranks.
1. Grow Dreadlocks or Braids
First, you'll have to grow your hair out and either get it dreadlocked or braided. You'll also have to stop washing it altogether. I know that sounds disgusting and dreadlocks look absolutely ridiculous on anyone not employed as an extra in a post-apocalyptic movie, but you'll have to make some sacrifices if you want to be a real backpacker. And this one is a necessity (Photo by Matt).
2. Demonstrate Your "Travel Cred"
To accomplish this, you need to go somewhere "off the beaten track", which generally just means some place full of backpackers, but shunned by other tourists. Obviously, you can simply lie about having been to such a place, but ideally, you'll want to actually visit at least one. One is plenty; you'll find very few have been to more than one.
Now when the conversation turns to exotic places you've visited—and it will turn to that topic—you can bring up your place. And you can keep bringing it up over and over and over. Should you run into someone else who's also been there, you're in for a treat. Now the two of you can dominate the conversation by constantly one-upping each other. Here's how it goes.
First, the other person mentions something especially exotic they did in this already ridiculously exotic location. You, of course, have also done that thing (even if you haven't), but you did it for much less money; naturally, it also took you twice as long and you endured ten times the hardships.  The other person will then mention being robbed at gunpoint, after which you bring up your stint in a local prison.
3. Stop Wearing Pants
Don't get too excited, you still need to wear something, but that something should not be a pair of jeans or anything else that resembles pants (in the American sense of the word, i.e. trousers—to all the British readers: please continue to wear underwear). Instead, you need to get a piece of clothing made from a lightweight fabric dyed a nauseatingly bright color and shaped to resemble a triangle, with the two legs connected by a low-hanging clump that looks like you didn't quite make it to the bathroom on time after an especially heavy and fibrous meal. Wear these every day and never wash them (Photo by Bluemonkey).
4. Carry a "Locally Made" Bag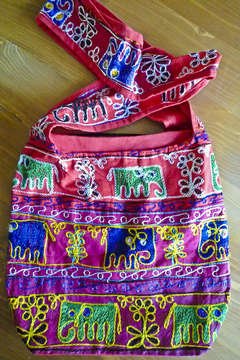 And of course nothing complements a pair of hideous pants like an equally hideous bag. Every true backpacker knows that nothing shows off your adventurous spirit and individuality like a poorly made bag fashioned by a six year old in a dark Bangladeshi sweatshop and decorated with an exotic elephant or eastern-religion-themed design (Photo by Dietmut Teijgeman-Hansen).
Don't worry about these bags weighing you down either; you don't actually have to put anything in them. While these bags could be used to hold things, their main function is one of status—they show the world that you've been to a generic tourist-trap market and were talked into overpaying for a "one-of-a-kind locally made by the most highly skilled artisans" bag. Try to ignore the fact that every other person who has been to the developing world has the same bag slung over their shoulder—theirs is obviously a cheap imitation; you got the real thing.
5. Stop Shaving
This one is mostly for the guys—if you want to be taken seriously as a backpacker, you cannot be clean-shaven. Even if you can't actually grow a beard, the pathetic attempt alone is enough to establish your travel cred. I can't believe I even had to waste space on the page for a point as basic as this, but I've seen far too many fresh-faced wannabes trying to fool people with their dirty dreadlocks, triangle-shaped pants and empty bags.
6. Hate America
Finally we come to the most important point—you simply must hate the United States and you must make your contempt known in any conversation that lasts longer than 10 minutes. Luckily, the US does absolutely everything wrong and is the root of all the world's evil, so you'll have plenty to talk about.
Not only will this display of your progressive and intellectual thinking prove once and for all what a well-traveled and knowledgeable backpacker you are, it will also win you numerous new friends. Don't worry about offending any actual Americans in the area; if they're real backpackers, they will agree with you and if not, they'll be back in the US and nowhere near your conversation.
If you actually are American, you really shouldn't be backpacking in the first place—it's just not done. If you insist, however, you're going to want to pretend you're Canadian, which means you'll have to invest a lot of money in Canadian themed t-shirts, hats and of course little Canadian flags to cover your backpack. No real Canadian would be caught dead without those. With your new disguise, you can now join in on the America-bashing, while enjoying an ice-cold coca cola and watching a Hollywood movie.
There you have it: follow those steps and you'll pass for a backpacker among all but the toughest critics. For those, you'll need to employ some more advanced techniques, such as finding strategic (i.e. highly visible to other backpackers) locations to post up and write meaningless drivel deeply spiritual and complex metaphysical observations in your Moleskine notebook or taking every opportunity to scoff at anyone enjoying some western food, before yourself going off and hitting all the 'Lonely Planet listed and approved' restaurants for some "authentic" local cuisine.
Finally I'd like to take a moment to address all those I may have offended in writing this. Please leave me a long and detailed comment detailing where I went wrong—I am always looking for material for future posts. Then toss your bag, get a shave and a haircut and buy a pair of jeans.