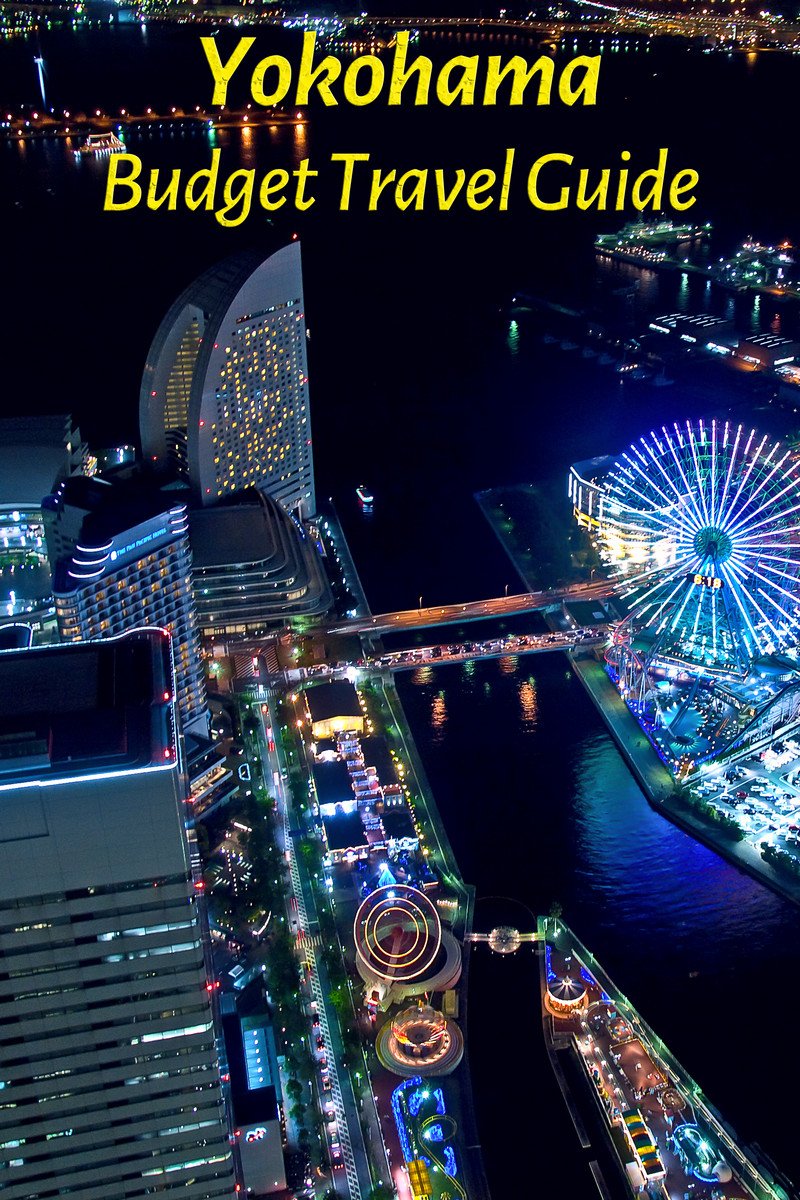 Yokohama is located just south of Tokyo and is Japan's second largest city. It was the first city to open up to foreign trade during the Meiji restoration and retains its international feel to this day, despite being almost completely destroyed during the Great Kanto Earthquake in 1923 and again during World War Two. Yokohama doesn't generally get a lot of tourists, but its proximity to Tokyo makes it a good day-trip destination for those with some extra time.
Best Time to Go
Like much of Japan, summer is festival time, but the summer months also bring the month-long rainy season (mid June to mid July) with its overcast skies (but not really all that much rain) and high humidity. Following the rainy season, the humidity stays and temperatures soar, making even just breathing uncomfortable. Winters are generally pretty mild and a good time to visit, but spring and autumn are easily the best. The cherry blossom season (around March and April) is probably the most popular time of year, but many people enjoy the fall colors in autumn as well. Late summer to early autumn is typhoon season.
Getting to Yokohama
Yokohama has no airports, so anyone flying in will arrive in Tokyo. The cheapest way to get to Yokohama from Narita Airport is the Keisei train to Nippori then switching to the JR Keihin Tohoku Line from there. This combination costs ¥1540 and takes about two hours. The Narita express is a quicker option, taking only 90 minutes, but it costs more at ¥4380 and only some of the trains run all the way through to Yokohama. Limousine Buses run from Narita to the Yokohama City Air Terminal in 2-3 hours and cost ¥3500.
From Haneda Airport, your best bet is the Keikyu Line Airport Express. It takes around half an hour and costs ¥470.
Most visitors from Nagoya, Osaka, Kyoto, Hiroshima, Fukuoka and other cities in western Japan arrive by Shinkansen (Bullet Train), which stops at Shin-Yokohama Station, a few stops away from the main station on the JR Yokohama Line. Other trains stop all over the city and coming from Tokyo especially, you have a number of different trains you can take.
If you're coming from the west of Tokyo, you'll want to take the Tokyu Toyoko Line from Shibuya Station or the JR Shonan Shinjuku Line from Shinjuku Station. If coming from the eastern part of Tokyo, the JR Tokaido Main Line is your best bet from Tokyo or Shinagawa Stations and the JR Keihin Tohoku Line can get you to Yokohama from Asakusa, Ueno and Nippori, as well as Tokyo and Shinagawa.
Transportation
The best way to get around is on the trains and subways. The government-run Japan Railways is the largest transportation company in the city, but a number of private operators also run trains and subways. To save money on fares, try to stick to one operator as much as possible for any given journey.
The Minato Mirai 21 Subway Line is especially useful for tourists, as it connects Yokohama Station to Chinatown, running along the harbor where most of the attractions are located. The central part of the city can be explored quite easily on foot as well.
Accommodation
Tokyo has far more options when it comes to accommodation and I would recommend staying there. If you do want to stay in Yokohama, the cheapest option is a capsule hotel. The Resort Capsule Sakuragicho is the best, with coffins rooms for around $35. The Capsule Inn Miyako is only $20, but it only allows males and is nowhere near as nice.
There is a hostel in the city, the Hostel Village Hayashi-Kaikan, but I wouldn't really recommend it. It's cheap, though, with dorm beds for under $20 and Japanese-style private rooms starting at $25.
If you'd rather stay in a hotel, the Hotel Route Inn Bashamichi is really nice, has rooms starting at $50 and is located close to everything, right in the middle of Chinatown. The Hotel JAL City Kanna isn't quite as nice, but it is similarly located and their rooms start at $40.
Eating & Drinking
This is Japan, so you'll find restaurants in every price range absolutely everywhere. Many tourists head to Japan's largest Chinatown for some Chinese food, but for me the highlight of Yokohama is the Shin-Yokohama Ramen Museum (located at Shin-Yokohama 2-14-21) where you can overpay for bowls of noodles from Japan's most famous ramen chains. Everything costs more than it should at the museum, but the food is great.
Similarly, you'll find no shortage of places to drink. In the summer several rooftop beer gardens will open up downtown. To save money, try a chain of bars called GIMME!GIMME!GIMME!, where every drink on the menu costs 500 yen.
Things to Do
Chinatown: the largest Chinatown in Japan is incredibly touristy, but it's still pretty interesting and it has hundreds of (mostly touristy) Chinese restaurants
Bay Stars Stadium: considered one of the best places to watch a baseball game in Japan; located in Naka ward near Chinatown or Kannai
Landmark Tower: the tallest building in Japan and the second fastest elevators on earth; good views from the observation platform on the 69th floor (¥1000); the 68th floor has a restaurant and the 70th a cocktail lounge (all drinks are at least ¥1000); Minato Mirai Station
Sankei-en Park: traditional style of park known as Teien ("set park") with many traditional buildings including 13 designated as national heritages; 35 min by bus from Yokohama Station
Yamate: the old foreign neighborhood with houses previously owned by rich foreigners that you can freely visit
Yamashita Park: nice park with views of Yokohama's port; you'll find many street performers here on the weekends; near Motomachi-Chinatown Station, JR Ishikawa-cho station and JR Kannnai station
Ōsanbashi Pier: the main international pier at the Port of Yokohama with a rooftop garden that is especially nice at sunset
Kishine Park: not that great most of the year, but very popular during cherry blossom season; Kishine Koen Station
Karasuyama River: narrow river with cherry trees lining both sides, making it a great place to see some cherry blossoms; located 10 minutes from Shin-Yokohama Station
Shomyo Temple: temple with a beautiful garden, especially during cherry blossom season; also a good place to view the fireworks in the summer and during the New Year's celebrations; take the Yokohama Keikyu bus line 13 from Kanazawa-Bunko Station on the Keihin Kyukou Main Line and get off at the Shomyo-ji bus stop
Kamakura: seaside town south of Yokohama with dozens of temples and a large Buddha
Money Saving Tips
do not take a taxi from the airport; take one of the trains instead
similarly, take public transit to get around town and try to stick to trains and subways run by the same company for any given journey (i.e. use only trains run by JR or only ones run by Keikyu, etc.)
avoid touristy restaurants and eat at small, local places
spend the night in Tokyo, not Yokohama
drink at one of the GIMME!GIMME!GIMME! branches
Photo courtesy of Inoc.