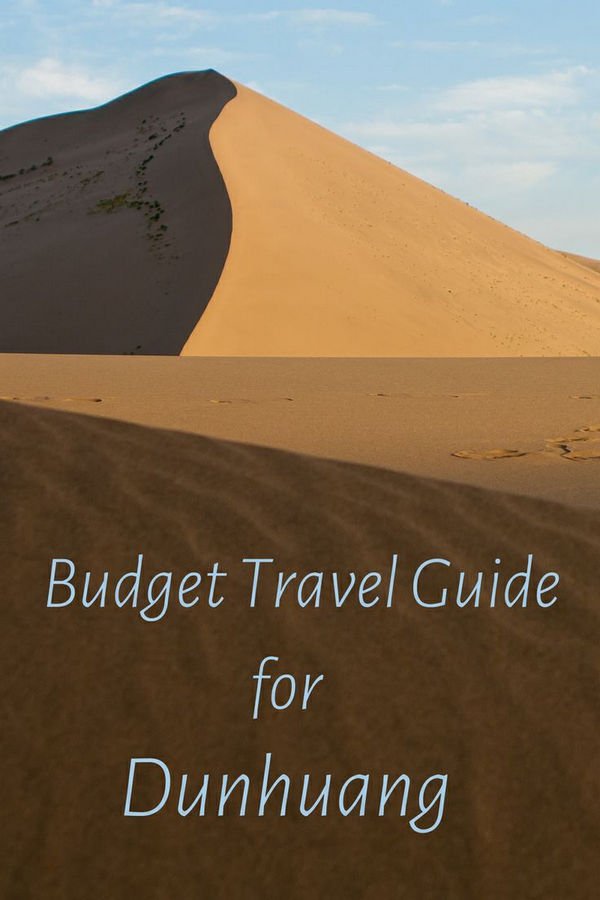 Dunhuang in China's northwestern Gansu Province was once a major stop along the ancient Silk Road. These days, it's a major tourist attraction boasting the UNESCO World Heritage Mogao Caves and some pretty amazing sand dunes. The town itself is mostly uninteresting, but it does have a pretty good market where you can fill up on great street food. You can read about my visit to Dunhuang, if you like.
Best Time to Go
Winters in Dunhuang get very cold and the summers get very hot, but even in the summer, temperatures drop considerably at night. The most comfortable times to visit are probably early autumn and late spring.
Getting to Dunhuang
Due to its remoteness, many people prefer to arrive in Dunhuang by plane from Beijing, Xi'an, Lanzhou and Urumqi. The airport does not have a taxi stand, making it a good idea to arrange for pickup with your hotel. They do offer shuttle buses at the airport, but you might have to wait a while.
If arriving by train, the station is 12 km outside of town. Minibuses can take you downtown for 3 Yuan per person. You could also take a taxi, but will pay a bit more. You might also arrive at Liuyuan Station which is about 130 km from Dunhuang. From here, minibuses will save you a lot over taxis.
Both bus stations are right downtown and you can get to the budget accommodations around the night market area and Mingshan road on foot. Taxis won't cost too much from here either (5-10Yuan); just make sure they use the meter.
Transportation
The two main attractions, the Mogao Grottoes and the Mingsha Sand Dunes can be reached by public bus. Some of the others require private transport which can be easily arranged in town. You can also rent bicycles for 1 RMB per hour, but personally, I would not want to be pedaling around in the desert heat.
Accommodation
In Dunhuang, you have the option of staying downtown or a few km south of the town at the sand dunes. Staying at the sand dunes is much more pleasant and relaxing, but you have virtually no options when it comes to eating, so you'll probably have to catch a bus or taxi (or rent a bike) to get back to town.
In town, most cheaper accommodation options are located along Minshan Road, which is the street heading to the dunes and around the night market area. There is one hostel downtown, the Charley Johng's Hostel (no longer run by Charley apparently), but it did not impress me at all. I stopped by looking for a room, but ended up staying at one of the places on Mingshan Road.
Many of these hotels have no English names, so just walk into a few and ask about rooms. With some bargaining, you can probably get a room for 50 Yuan and you definitely shouldn't pay more than 100. These places are quite basic though and won't have bathrooms in the rooms. You'll pay a bit more for something nicer. If you feel more comfortable booking ahead here's a listing of some Dunhuang hotels. You won't find the cheapest places online though.
Out at the dunes, I stayed at the Zephyr International Youth Hostel, which was quite nice, with cabins, swings and hammocks in a little cluster of trees right by the dunes. They were charging 25 Yuan for a dorm bed and 100 for the smaller cabins. Unfortunately, the Zephyr does not have an online presence, but here is their contact information:
Zephyr International Youth Hostel  Tel: 0086 937 8882000; you'll see lots of signs leading you there from the main road; it's about 5-10 minutes on foot
The only place at the dunes that is available online is Charley Johng's other property, the Charley Johng's Dune Guesthouse. It does not have a very high rating, though and I did not check it out when I was there.
Eating
Your best bet for good food is definitely the night market. I ate there every day. During the daytime, you'll find street food and cheap restaurants by the farmer's market and you'll eat quite well there too. For western food, try the tourist cafes on Mingshan Road. You'll pay more and I don't know if the food is any good.
Safety
Being a major tourist destination (for Chinese tourists anyway), Dunhuang has the standard dangers that come with that, i.e. petty thieves and scams. Bargain hard for everything, even your meals, as the food vendors in the night market will happily overcharge you if you let them.
Things to Do
Mogao Caves: UNESCO World Heritage Site (see Mogao Caves on the UNESCO website) filled with Buddhist art and manuscripts; 25km from town; take the city bus for 8 Yuan, a taxi, a prearranged tour or bike yourself if you're insane; the caves can only be visited with a guide, which is included in the 180 Yuan entrance fee; English tours daily at 9am, 12am and 2pm.
Mingshashan Sand Dunes (Yueyaquan National Park): take bus 3 from downtown, a taxi, or bike there; entrance fee is ¥120 (¥60 in the low season, apparently); for camel rides, add another ¥100; you can avoid the entrance fee and the crowds by following the road just outside the dunes to the west for a few km and heading into the dunes at that point (you'll probably have to walk at least 5km to get around the fence first and the watch-guards second)
Huyang Forest: a small forest of rare poplars, some of which are over 600 years old; entrance fee is ¥30.
White Horse Pagoda: a 12m high stupa 3 km west from the town center; entrance fee is 15 Yuan
Camel Trek: 2-7 day treks can be arranged by Charlie Johng's Café on Mingshan Road (Tel: +86 13893763029); expect to pay around ¥250-500 per day (bargain hard)
Money Saving Tips
take the bus or rent a bike to get around (that said, taxis should only be 5-10 Yuan for a ride around town)
eat at the night market and don't forget to bargain for, and agree on, a price before ordering
don't pay the steep entrance fee to the dunes and walk around the fenced-off area instead; apart from saving money, you'll have the dunes all to yourself over there, which is pretty amazing